Jones Healthcare Group Drives Positive Change through Sustainable Development
Organization Balances Business Growth With 4 New Sustainable Commitments in Latest Sustainability Report
At Jones Healthcare Group, sustainability is at the heart of everything we do.
Sustainability has become increasingly important in the pharmaceutical sector, as consumers and stakeholders demand more environmentally and socially responsible practices.
The sector's reliance on natural resources, energy-intensive production processes, and single-use packaging creates a significant environmental impact. Moreover, the industry's impact on human health and society underscores the need for ethical and sustainable business practices.
In response to the evolving climate and recognizing our responsibility in this industry, we continue to take action to reduce our environmental footprint, improve the sustainability of our supply chains, and promote social responsibility.
"As we continue to expand and innovate, we remain committed to reducing our environmental footprint, supporting responsible sourcing, and promoting social responsibility throughout our operations," notes Chris Jones Harris, Principal, Corporate Development. "Our sustainability goals are not just aspirations – they are an integral part of our business strategy. By focusing on both growth and sustainability, we believe that we can create a more resilient, prosperous future for our company, our stakeholders, and the planet."
With the launch of our 2022 Sustainability Report, we're excited to announce four new targets for 2030, in addition to existing targets and our objective to reduce greenhouse gas emissions by 25%. We also have several notable progress highlights to share which reinforce our commitment to long-term economic stability through sustainable practices from environmental stewardship and social responsibility to business modelling and innovation.
Environment
Ongoing Target: -25% CO2 by 2030
We're constantly striving to reduce our carbon footprint while growing our business. Aligned with the Science Based Target Initiative's 2° scenario, we're committed to reducing GHG emissions by 25% by 2030. While we achieved a 6% reduction in 2021, exponential business growth in the past year caused our emissions to climb 4% from our 2020 baseline.
However, we're proud to announce that with continued focus on energy and production efficiency, we successfully reduced our emissions intensity ($/CO2e) by 18% in 2022.
Ongoing Target: 100% Sites Assessed for Water Risk
Recognizing the evolving nature of climate change, we have com­mitted to annual assessment of water risk at each facility. Proactively monitoring and managing water risk is part of our commitment to enhance our organization's immediate and long term resilience, and ensures our ability to deliver to our customers.
Since 2021, we've assessed 100% of our facilities which all remain at low to low-medium for overall water risk.
New Target: Zero Non-Hazardous Waste to Landfill by 2030
Our new zero waste target formalized our long-standing commitment to waste reduction. In 2022 alone, we successfully diverted 99.5% of non-hazardous waste from landfills – 3.8 million metric tons we ensured were recycled or recovered.
By 2030, we aim to divert 100% of our non-hazardous waste away from landfill.
Social Capital
Ongoing Target: 1:1 Gender Wage Equality
Our target is simple: equal pay for equal work, regardless of gender.
No matter how our business evolves, we remain focused on creating a just and equitable workplace centred around our core values of diversity and inclusion. That's why we actively support and recruit Canadian newcomers, we support work-life balance, we have robust training and HR policies, and since 2015 we've maintained gender wage equality across comparable roles.
Although this mentality has always governed our business, this year we formalized our commitment to gender wage equality as an ongoing sustainability target.
Ongoing Target: Zero Injury in the Workplace
Zero injury has always been the goal. We have aligned all facilities to measure Medical Aid Frequency (MAF) and Lost Time Frequency (LTF). By improving how we track and analyze our health and safety performance, we can take targeted actions to achieve better health and safety for our employees at Jones while meeting obligations to our stakeholders.
Business Model
New Target: 100% Certified Paperboard
We've made significant strides in product lifecycle management and research and development, introducing new sustainable packaging solutions and transitioning to 100% FSC® or SFI certified paperboard. In 2022, 100% of the paperboard we purchased was either FSC® or SFI certified.
Moving forward we will continue to uphold this target, maintaining renewable resources, meeting the growing demand for responsibly sourced packaging.
New Target: 100% Sustainability Evaluation of Key Suppliers by 2030
Sustainability in our supply chain is of utmost importance at Jones. In 2022 we evaluated 94% of key suppliers to ensure the resilience and sustainability of our supply chain, up from 83% in 2021. Through this process we reviewed suppliers' policies, goals and targets, corporate disclosure, certifications, on-site audits, and risk assessment.
New Target: 100% CAPEX Evaluated
This new goal ensures we evaluate all capital expenditures for consumption, pollution, and vendor or supplier sustainability. Transitioning into this process mid-2022 we included sustainability evaluations in 50% of our CAPEX reviews.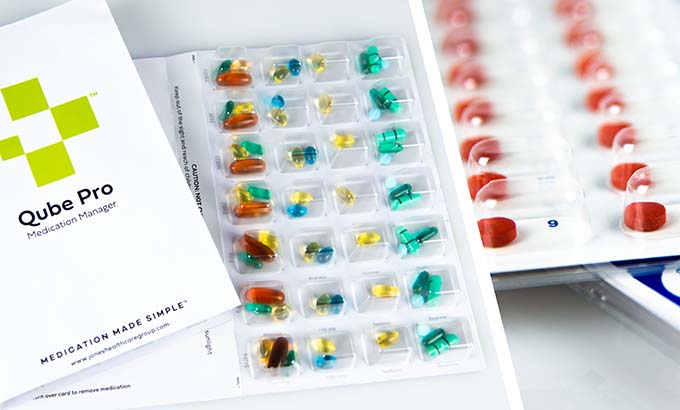 Further Achievements
Research and Development
We were excited to introduce two new sustainable packaging solutions to minimize waste and maximize recyclability in 2022. Our new Bio-PET products comprised 10% of blister sales in 2022, at 3.5 million units sold.
Building on this sustainable development, our new Qube Pro medication adherence package won a Bronze Design Award at the Sustainable Medicines Packaging Awards, a global competition launched by YewMaker and the Sustainable Medicines Partnership recognizing sustainable packaging design and circularity in the pharmaceutical supply chain. Following the success of these products, we're transitioning all our blisters to Bio-PET over the next 18 months.
"Our commitment to sustainability is unwavering, and we're constantly pushing ourselves to do better. We prioritize sustainable practices in every aspect of our business, from designing innovative products to improving our services and business models," says Andrew Wong, Senior Manager, Corporate Sustainability. "Our 2022 Sustainability Report showcases the strides we've taken so far, but more importantly, it sets the stage for even more ambitious goals and initiatives in the future."
Learn more about our sustainability commitments and progress: