Team Member Spotlight: Isabelle Grouven, Summer Intern to Full-Time Prepress Specialist
The company culture at Jones Healthcare Group is driven by many talented individuals. To highlight team members who are working hard to make a positive impact in health and wellness, we are excited to launch a new Team Member Spotlight series.
This month, we are pleased to feature Isabelle Grouven, who has been with the organization for just over a year and is based out of our office in London, Canada. With a passion for technical design, we dug deep into uncovering what makes Isabelle unique and what motivates her to work in the healthcare packaging industry.
Isabelle started out at Jones as an intern during the summer of 2018. Our summer internships are a unique rotational program, allowing students to experience different areas of the organization, partner with a mentor, build their network and obtain real-world experience before graduation. A successful internship can often lead to a full-time position with the company. After graduating from Ryerson University with a degree in Graphic Communications Management in April 2019, Isabelle was offered a full-time position at Jones in a hybrid role as Junior Prepress Artist & Structural Designer. This keystone department offers customers creative ideation sessions, complete file and colour management and full graphic design and structural development consultation.
Fluent in German with a perfectionist's eye, Isabelle thrives working on a variety of technical projects for global customers.
Q: What project has been the most inspiring to you? What did it involve and why is it inspiring/a favourite?
Since I am in a hybrid role and work with both the prepress and structural teams, I create the structural design, produce the artwork, set up the artwork for print and cut folding carton samples on our Kongsberg cutting table for customers to better visualize the end product.
By executing all of these duties on a daily basis, I was able to work on my favourite project to date – designing COVID-19 test kit prototypes.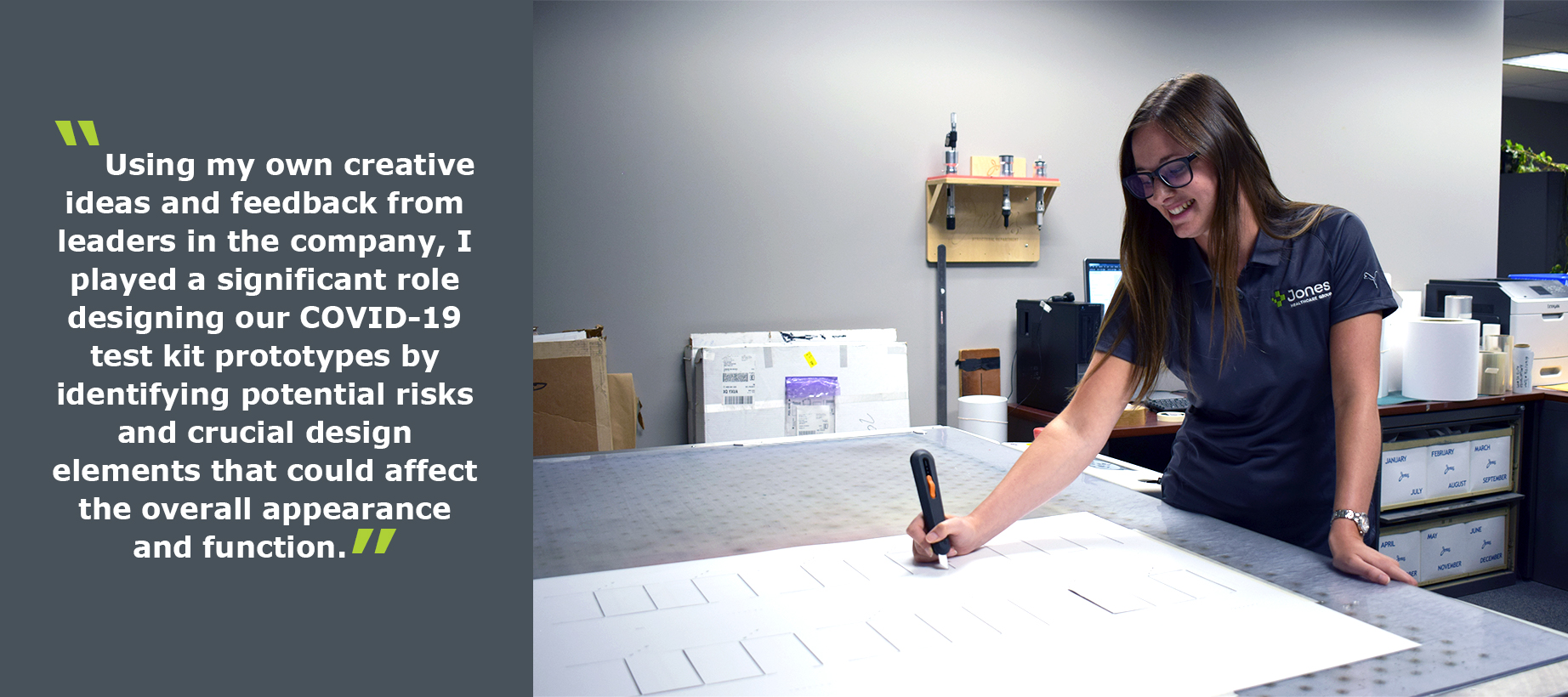 I produced printed mock-ups of the prototype kits from start to finish. I also had the opportunity to learn how to use new software to create 3D renderings to show different angles and positions of the kit that can be used in presentations for potential and existing customers.
Q: Can you share a story about when you learned something from a leader?
I enjoyed working with my supervisor, Jodi Plouffe, when I first started at Jones. She explained the importance of trap, screen angles and minimum dot within the prepress process – if these elements are not applied correctly, the product's end result can be crucially impacted. I have been able to apply these learnings on a regular basis.
My two supervisors today, Jodi and Ryan Bettridge, both encourage me to step outside my comfort zone and assist me when I run into problems. I feel like I'm growing and learning something new every week and my teams are always available for advice and support. When errors are caught, they are promptly presented to the group and individual with constructive feedback, which is very helpful.
Q: Can you provide an example of when you shared an idea or feedback that shaped a project or improved the outcome?
When colleagues started working remotely due to COVID-19, the prepress department needed a way to communicate information effectively to other departments instead of relying on physical prepress dockets. I contributed my thoughts and ideas pertaining to an online project management system to virtually communicate and share designs. I was given the opportunity to get involved with the creation of a new portal with the help of our Corporate Technology Services team. Changing our docket workflow to utilize this tool has enhanced our overall interaction and communication with the customer service team during the pandemic.
Q: What's the most unique thing one of your co-workers may not know about you? 
I was born in a small town near Cologne, Germany and my family and I immigrated to Canada in 2010 when I was 14 years-old. When I lived in Germany, Australia felt like a second home to me because my grandparents immigrated there in the 80s. Ever since my first birthday, I have been traveling to Australia to visit every couple of years.
Q: What do you love most about working at Jones?
The thing I love most about working at Jones is the supportive and encouraging working environment and how my co-workers make time to train me and help me work through problems. It's also rewarding combining my passion for technical design with healthcare as I feel like I am contributing to keeping communities healthy and better informed through state-of-the-art packaging.
Check out our Careers page to discover current job openings at Jones or to simply get in touch. We would love to hear from you!