Packaging for a Greener Tomorrow: Understanding Sustainability Certifications
Sustainability is a topic that touches consumers and businesses alike. From pharmaceutical professionals to patients seeking safe medications, caregivers looking out for loved ones, and the intricate web of supply chain professionals, the way products are packaged matters to us all.
Packaging is not just about aesthetics or functionality; the industry continues to evolve, driven by a collective responsibility to safeguard our planet.
In this blog, we'll explore a key aspect of sustainable packaging: certifications. These certifications are your assurance the packaging materials you encounter – from medicine cartons to everyday product labels – are sourced and produced in ways that prioritize the environment and the communities involved.
Whether you're a pharmaceutical manufacturer aiming to make eco-conscious choices, a supply chain professional seeking resilience in your operations, or simply someone who cares about the world we live in, understanding these certifications is a first step.
Understanding FSC® and SFI Certifications for Sustainable Packaging
The Forest Stewardship Council®  (FSC®) and the Sustainable Forestry Initiative® (SFI) offer comprehensive certifications that ensure raw materials are sourced from sustainably managed forests and traced throughout the entire chain of custody. To learn more about how these certifications differ, explore this comparative guide.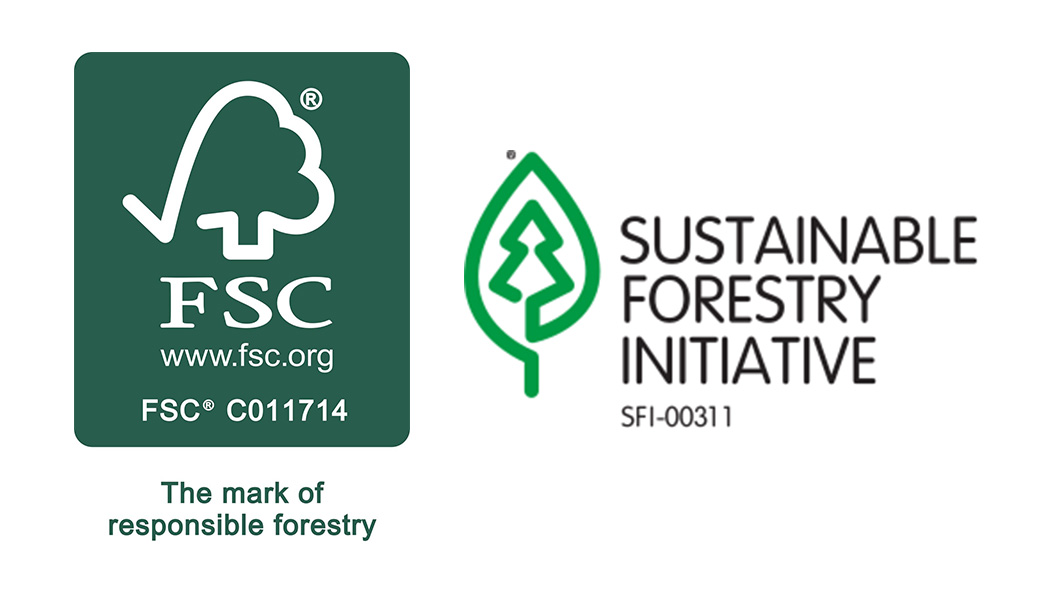 Forest Stewardship Council® (FSC®)
FSC® stands out as a globally recognized and trusted forest certification system, accounting for 39% of the world's certified forests. It has proven its ability to prevent deforestation, preserve biodiversity, and protect human rights. FSC® certification demonstrates that a packaging provider's operations meet the world's highest environmental, economic, and social standards.
FSC® undergoes rigorous investigation and reporting processes to ensure its standards are upheld, with certification bodies conducting annual audits to assess conformance to forest management certifications.
The FSC® label on a finished product sends a strong message to the marketplace that your business is committed to protecting the health and resilience of forests worldwide.
Sustainable Forestry Initiative (SFI)
SFI accounts for 25% of the world's certified-forests. Its unique "Fibre Sourcing Standard" prioritizes responsible procurement and species conservation across millions of acres of forests – certified or not.
Investing in forest research, respecting Indigenous rights, and undergoing regular standard revisions, SFI ensures its standards remain current and effective. SFI fuels conservation efforts, community engagement, and sustainable supply chains. As a result, manufacturers with SFI certifications contribute to smart climate solutions.
Similar to FSC®, consumers choose packaging with the SFI logo because these products are more sustainable than the average paper product.
How these Certifications Protect Natural Resources and the Environment
SFI and FSC® certification bodies have a shared goal of conserving natural resources and promoting responsible forest management. These efforts result in several critical benefits:
Conservation of Biodiversity: Assessors evaluate forests to determine which trees can or cannot be harvested, a vast improvement from clear-cutting practices.
Sustainable Harvesting: Certifications ensure trees are only harvested at a rate that allows for their reproduction, maintaining a carbon-neutral forest. FSC® also mandates reforestation after the final harvest.
Protection of Vulnerable Ecosystems: Certification standards require the conservation of areas around sensitive locations, such as salmon-bearing streams, exceeding typical requirements. This helps safeguard endangered species and drinking water for downstream communities.
Further explore SFI's conservation impact here.
Both SFI and FSC® standards contribute to water quality, biodiversity preservation, wildlife habitat protection, and support various ecosystem services. They also advocate for zero deforestation, the preservation of ancient and endangered forests, fair wages and work environments, biodiversity conservation, and uphold community rights, including those of Indigenous peoples.
Today, there are over 200 million hectares of FSC®-certified forest areas worldwide, and 140 million hectares of SFI-certified forests in North America. FSC® and SFI certifications play a vital role in building resilience within the packaging industry. By choosing a packaging provider with FSC® and SFI certifications, our customers can do their part in promoting sustainability and protecting our natural resources.
Sustainable Paper Packaging at Jones Healthcare Group
At Jones Healthcare, sustainability is a core principle to which we adhere. When it comes to sustainability certifications, we have the following protocols in place:
SFI and FSC® Certifications: When we receive rolls of fibre or paper, they come with associated SFI or FSC® certificate numbers, assuring our customers of the sustainability of our materials.
FSC® Mix Certification: We proudly hold the FSC® mixed certification, indicating our commitment to sourcing materials from FSC®-certified forests, recycled materials, and FSC® controlled wood. This certification avoids controversial sources and promotes responsible practices.
100% SFI or FSC® Sourcing: We are dedicated to sourcing 100% of our materials from SFI or FSC®-certified sources.
Recycled Board: We are actively working to incorporate more recycled board into our products. Our line of recycled board, containing 30% post-consumer recycled content, performs just as well as solid bleached sulfate (SBS) while maintaining the same printing quality and filling line performance.
Explore our latest sustainability report to learn more about our commitments.