Centralized Fulfillment for Pharmacy
How Does Medication Adherence Packaging Need to Change in a World of Increasing Automation?
Pharmacies need more time. Not only are today's pharmacists counselling patients on medications and providing new primary care programs, but they are also vaccinating millions of people and completing COVID-19 tests.
As pharmacies continue to expand their offering, pharmacy automation systems and centralized fulfillment for prescriptions are helping teams operate more efficiently and allocate more resources to patient care.
In this article, we will take a closer look at the central fill as a service model, including trends and considerations for prescriptions dispensed in medication adherence packaging and blister packs.
What is driving the move to pharmacy automation technology?
Prescription filling is a task that can be automated. In many ways, it can be seen as a manufacturing process where lean principles apply.
Automated filling technology can reliably fill prescriptions in blister packs much more quickly compared to a manual preparation process, at speeds up to 1.5 multi-dose blister packs per minute[1]. Automated visual checking systems are also now available to reduce or eliminate the need for manual accuracy checks for adherence packs, greatly increasing efficiencies.
Overall, pharmacy automation can reduce errors in medication filling, while also reducing labour costs devoted to prescription filling. This frees time that can be directed toward patient care activities, with the ultimate goal to improve health outcomes and patient well-being.
What is centralized fulfillment or central fill?
Centralized prescription processing is a service provided by one pharmacy to another where the central fill pharmacy processes a request from the originating pharmacy to prepare a drug order[2]. This process is also known as centralized fulfillment or central fill. Central fill facilities or central fulfillment centres do not have direct patient contact, but instead focus on preparing prescriptions. The pharmacy placing the drug order services the patients directly.
Central fill facilities use automated robots to fill prescription packaging, including medication adherence packaging and blister packs.
Why move to a centralized fulfillment strategy?
In many busy pharmacies, space is limited and workflow cannot be optimized. Centralized fulfillment allows pharmacies to reduce the amount of store inventory, since the majority of inventory can be kept at a central fill facility.
When it comes to pharmacy automation, pharmacies may not have the ability to invest in this kind of equipment at the store level, or the space to install robots. Pharmacies can in turn leverage central fill facilities equipped with pharmacy automation technology as a cost-effective solution. The scale of these facilities allows for proper space layout and flow of material, increasing efficiency and quality.
Large pharmacy chains, regional pharmacy chains, pharmacy groups, grocery chains and mass merchants are all moving toward a centralized fulfillment strategy for prescription filling for these reasons.
What does centralized fulfillment look like?
In many cases, we are seeing regional hub and spoke models being created, where a central fill facility services pharmacies within a certain geographic region. This allows for lower shipping costs and faster delivery times compared to a facility that supports a larger geographic region.
Pharmacies can send data to the central fill facilities through common pharmacy management software, allowing for integrated workflow between the hub and the spoke.
How does medication adherence packaging need to evolve to support centralized fulfillment?
Speed and repeatability are critical. The time to seal a filled blister must now equal the time to fill a blister using automated technology. Otherwise, no matter how quickly a blister can be filled using automation, the sealing process will create a bottleneck in the central fill workflow that slows prescription preparation.
Every step in the adherence package sealing process matters, and must be analyzed and improved. For example:
Printing separate labels and applying them to a package can be replaced with printing directly on the packages themselves
Visual and/or mechanical alignment features must be included on packaging to integrate with automation equipment, adding speed and repeatability to the sealing process
Blister pack design needs to be optimized to eliminate redundant features that increase workflow time
Blister and seal design need to be completed in collaboration with automation technology manufacturers to create an efficient workflow
The combination of the blister, seal and the tray used in automated robots all must work together seamlessly
How has Jones Healthcare Group rethought its adherence products to better support pharmacy automation?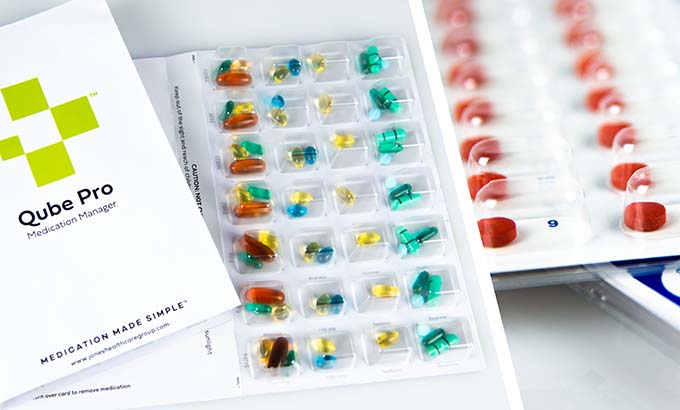 We have recently released two new products specifically tailored for the automation segment:
Qube Pro is designed for the multi-dose segment and allows for direct printing of patient information onto the package. In addition, we removed a third panel on packaging, eliminating redundant material. Visual aids allow for fast and repeatable alignment on automation trays.
FlexRx™ One is our flagship product for the unit-dose segment. The specially designed blister, with side and bottom alignment ribs, allows for improved sealing times and guaranteed repeatability. The ability to print on both sides of the label provides more information for the patient and branding space for the pharmacy.
Both Qube Pro and FlexRx One use our new Bio-PET blister. Ours is the first adherence packaging in the market to incorporate this sustainable packaging material, which is free of chemicals of concern. The Bio-PET blister is made using waste from sugar molasses production for a lower environmental footprint – all while continuing to meet strict requirements for pharmaceutical use.
We have also made significant improvements to our multi-dose FlexRx and FlexRx Light products, which offer detachable medication doses for patients on the go. We have added new punch-and-peel blister seals that make it easier for a patient to access their meds. Our eco-friendly Bio-PET blister is also now available for these products.
Conclusion
Pharmacies are looking to optimize operations, so they can spend more time with patients delivering primary care programs. Pharmacy automation technology and centralized prescription fulfillment continue to evolve to support this important goal.
Centralized fulfilment for pharmacies has many benefits when it comes to dispensing medications in adherence packaging. That said, sealing adherence packs must be just as quick and efficient as filling blister components with medications using automation technology, or else speed and scale are negatively impacted.
It's important to choose adherence packaging specifically designed for automation to ensure there are no bottlenecks in the adherence packaging preparation process. Jones Healthcare Group has proven and sustainable adherence packaging solutions for automation, developed in partnership with automation manufacturers, central fulfillment centres and pharmacy chains.
Get in touch with us below to learn more.
[1] https://synmedrx.com/our-solutions/synmed-pharmacy-automation/synmed-ultra/
[2] https://www.ocpinfo.com/regulations-standards/practice-policies-guidelines/central-fill/